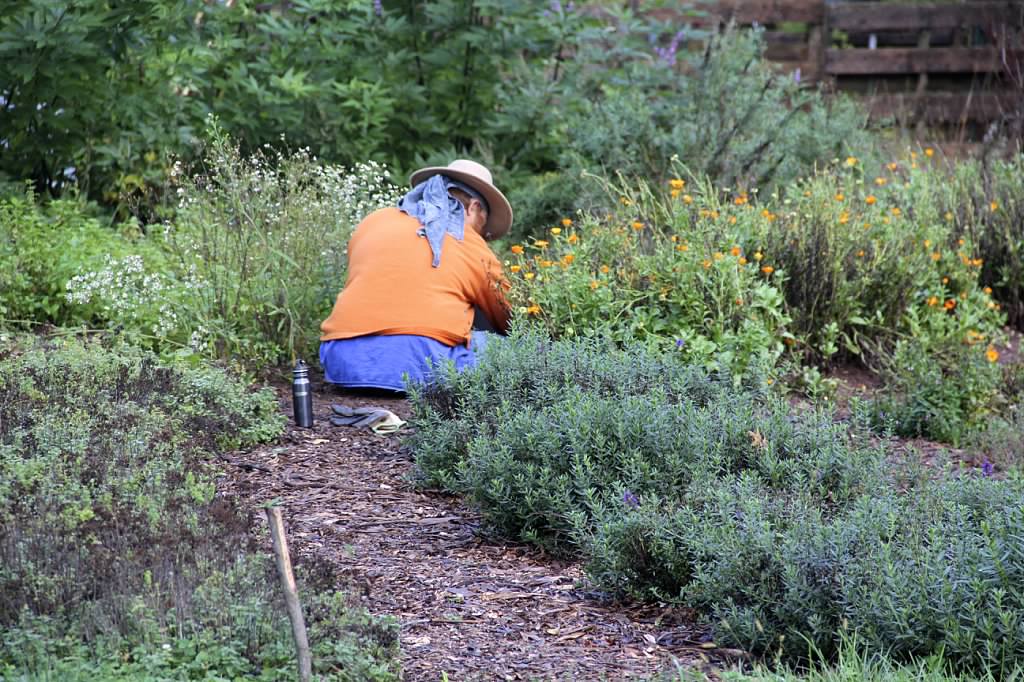 Monstrosity, of course, is not confined to the classroom. In this intolerable season, not only has the Confederate flag been on display on the Bryn Mawr campus, but non-indictments have been handed down in both Missouri and New York.1 College administrators begin to organize a Community Day of Learning, "designed to illuminate and consider the benefits and challenges of living and learning in a diverse community."2 As I participate in the planning, I am feeling troubled by Sara Ahmed's observations that "diversity management" might function as a way of "containing conflict or dissent," "a discourse of "benign variation" that "bypasses power as well as history."  I recognize how easily the language of diversity can be "mobilized as a defense of reputation," "a means of maintaining privilege." "The discourse of diversity," Ahmed prods, "is one of respectable differences …. used not only to displace attention from material inequalities but also to aestheticize equality."3
My education into the residue of history, of its continuing action in the dynamics of power, continues unabated as Fall 2014 unfolds.
This semester, along with colleagues in Disability Studies and the Graduate School of Social Work and Social Research, I have co-designed a cluster of courses modeled on an intersectional approach to identity.4 Focusing, in particular, on those identity categories of "humans being" that may seem non-normative, we read, view and create a range of representations, asking what stories we tell, and what images we construct, about ourselves and others — and how we might revise them. What are the possibilities, what the limits, and what roles might others play in these re-imaginings?
A central event in this work is a co-curricular project conceptualized and led by artist and curator Riva Lehrer.5 During an extended stay at the nearby intentional community that includes adults with intellectual disabilities, our students participate in villagers' work assignments, eat meals in their homes, and are welcomed into many aspects of their daily lives. Each also works closely with a village partner to create a portrait that represents them both realistically and symbolically. Villagers, in turn, complete drawings and portraits of their college partners. At semester's end, our villager partners visit Bryn Mawr, where they tour the campus, see their partners' rooms, share a meal, and exchange completed drawings and portraits.
At least that's the plan.
The reality — of an active world, shaping and being shaped by active subjects — turns out to a be considerably more complicated.
Tobin Seibers describes disability as a "body of knowledge."6 His concept of the interactively constructed self helps to highlight one very challenging dimension of our experiences at this dynamic farming, gardening, and handcrafting community, which is spread across hundreds of acres of farm, gardens, and woodlands. The bucolic site offers a local model for intentional, ecological living; it is filled with the pleasures of easy access to the natural world, and fueled by sustainable human actions, such as dairy farming, fruit and vegetable gardening, weaving, pottery-making, bread- and cookie-baking.
There is much here to enjoy and admire in this community; Riva compares, for instance, of the sensory deprivation of being hospitalized with the multiple pleasures offered by the village.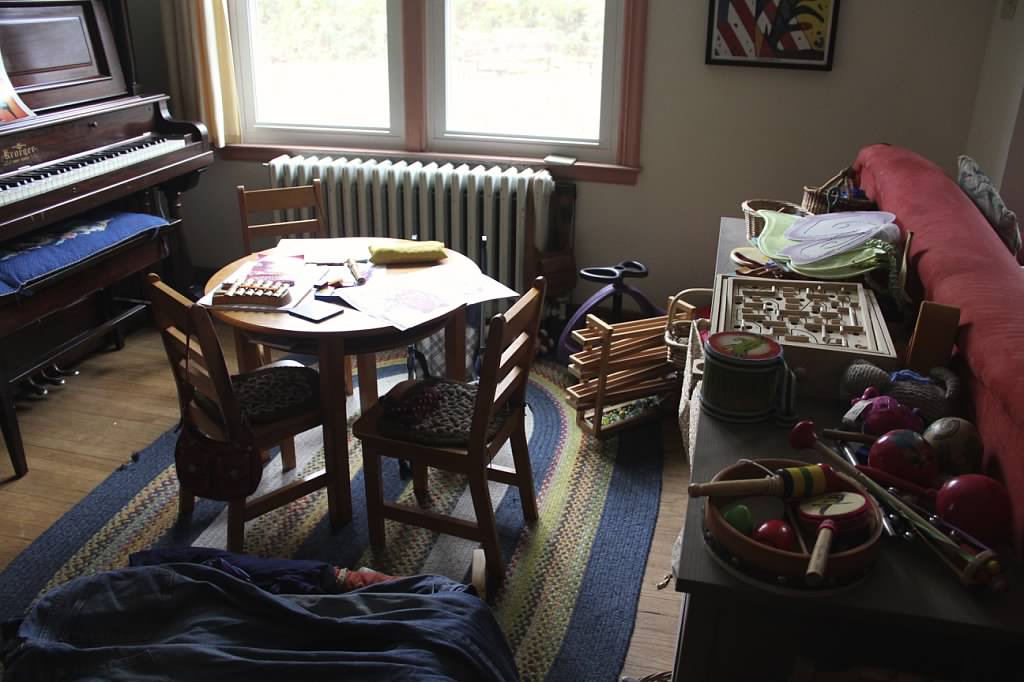 Here "invisible people" are accepted as "social refugees," made visible and useful. And yet, as one of the long-term householders also explained to us, "this is a community place, not a people place"; that is, individual empowerment is valued less than communal harmony — and such harmony comes at a number of costs, including those of diversity of race, class and ability. The community does not, in fact, offer a political or empowerment model of disability. It is insular, and strikes us, when we visit, as largely unaffected by time, modern technologies, and the demand of creating access for villagers whose families cannot afford the substantial fees for living here.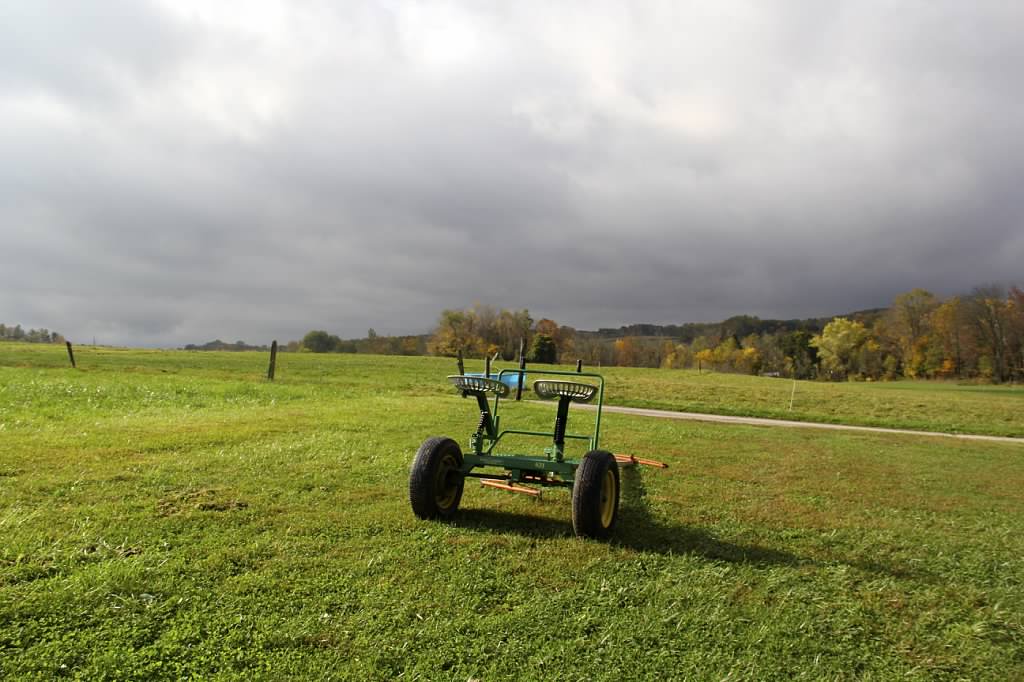 The three evocative photographs above were taken at the community by Rebecca,7 one of the students in our course cluster.
Her role in capturing these images is a reminder that there is always someone behind the camera.
There is also an artist embedded in each portrait created in the village. And in each portrait, further complexities: both a portrayal "of" the village and an "art of resistance" to it, to what it "means" and stands for. Consider, for example, this self-portrait of Nkechi,8 another student in our course cluster: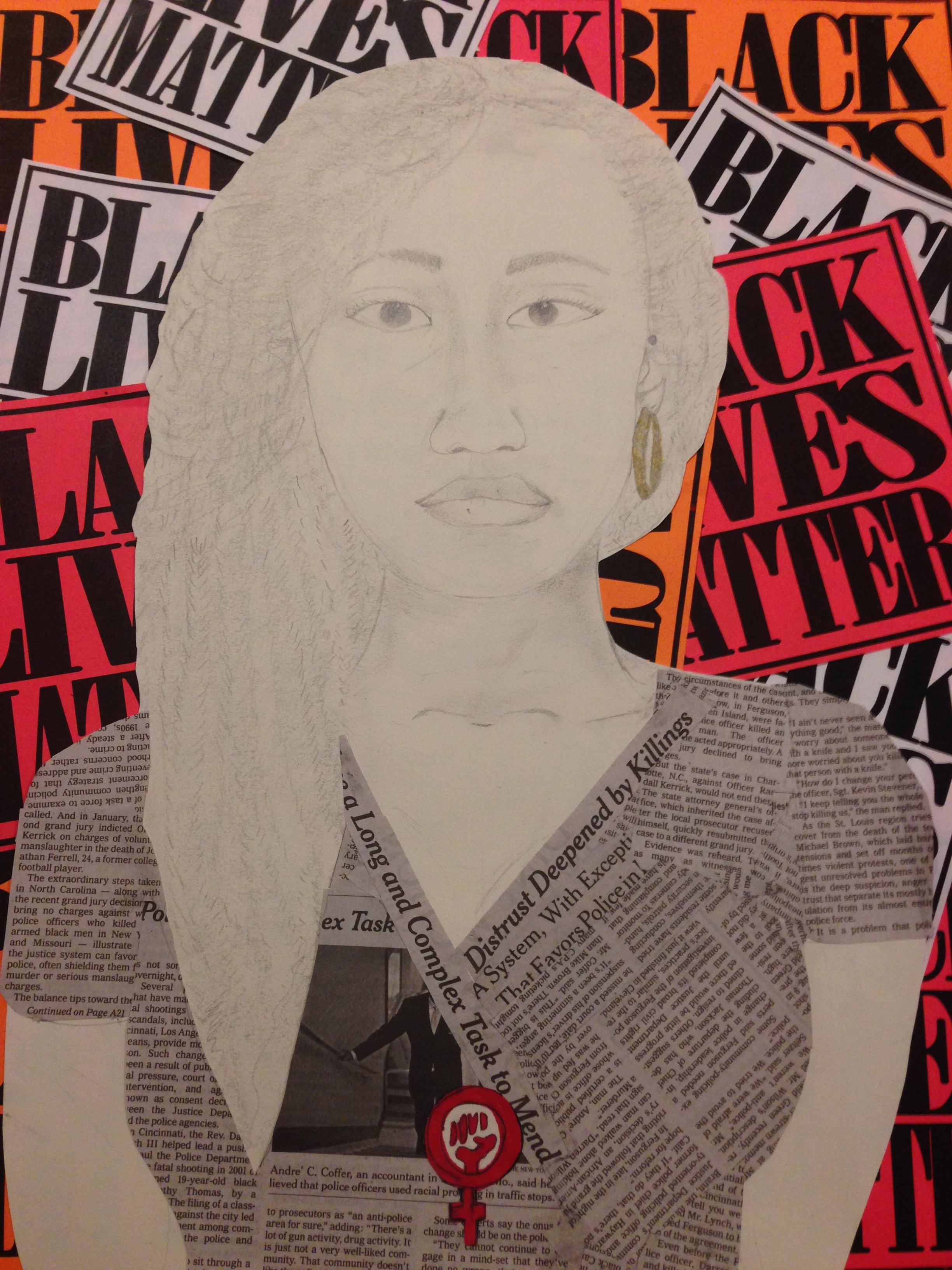 In mid-October, when Nkechi arrives at the village along with the rest of our students in our cluster, she is exhausted. She is the president of the Bryn Mawr dorm where two white Southern students put a Confederate flag on public display, and has been embroiled in the aftermath of this event, disheartened by its profound challenge to community making on campus, a disturbance reinforced by the refusals to indict elsewhere in the country.
Nkechi is assigned to shadow a villager who tells her that she doesn't like to be with "people who look like you"; she hears another (white) villager call one of her (black) classmates "my chocolate." At the end of our first day, Nkechi decides to leave, and so does not have the chance to experience Riva's vision: how we "build the project around the concept of portraiture as relationship," how "the act of slow looking fosters encounters that unfolded differently from, or raised productive difficulties about, standard power relationships … of age, race, gender, and able-bodied and impaired."9
Nkechi has no opportunity to learn from such experiences, because those "standard power relationships" — especially those of race, class and ability — have foreclosed her engagement in the first place. Many of the villagers lack the social filters which conventionally hide such differences.
To explain why Nkechi's departure is not accidental, but rather insistently over-determined, I draw on an essay by Eli Clare, who visits my class on "Ecological Imaginings"10 at Bryn Mawr the following semester. We read and discuss Eli's "Meditations on Disabled Bodies, Natural Worlds, and a Politics of Cure," which begins with a walk through a restored tall-grass prairie, and invites us to think from that place about the concept of "restoration," of "undoing harm," rebuilding a system that has been broken. It is an action that — while acknowledging that such a return will always be incomplete — is rooted in the belief that the original state was better than what is current.11
Eli argues that this metaphor (like all metaphors) falls short, as a means of thinking through the concept of "cure," if we imagine it as a mandate of return to a former, non-disabled state of the individual body. The desire for restoration is bound to loss, to yearning for what was thought to have been — but sometimes such restoration is not possible.  In Eli's story, as in many others, the original non-disabled body has never existed; such an account arises from imagining what the (normal, natural) body should be.
During our discussion about the limitations of this concept for those who are disabled, Nkechi says,
I also resist the desire for restoration, which seems to me to come from a place of privilege. For some of us, this is the best time ever. There is no time we want to go back to, no historical period we want 'restored,' no era when people who look like me weren't devalued even more than we are now.
Her comment echoes for me, deeply entangled with Eli's essay, as a critique of the "restored" and "restorative" world of the village community, and of the limitations placed on the possibilities of our engagement there. Eli says to us that "disabled bodies, like restored prairies, resist the impulse … toward monoculture."12 In the creation of retreats for disabled bodies and minds, we need also find a way towards more varied arts of resistance to the monocultural.
For starters: markedly absent in my account so far has been any elaboration of the experience of the villager whose "unfiltered" dismissal of Nkechi was, if not mean-spirited, still prejudiced and misguided.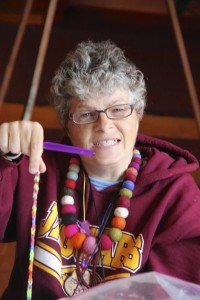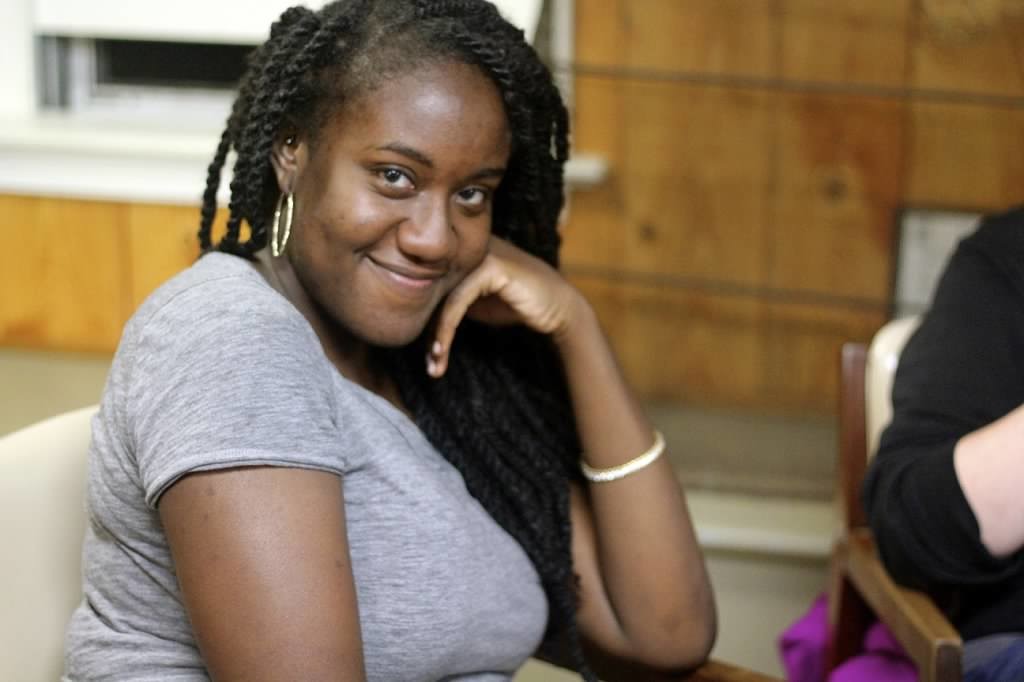 Nkechi's departure from the village is necessary for her well-being. It also causes distress to her professors and peers — perhaps to none more so than Amelia, who replaces Nkechi as her villager's partner for the remainder of the week. The villager's immediate liking for her makes Amelia feel a little guilty, but over the course of the week, the two of them are able to share a number of meaningful interactions. Ethical portraiture, as Riva explained, involves attending carefully to one another. Such attention seems to be very much in evidence in each of these photographic portraits, in which Nkechi and the villager entirely fill the frame. Each is smiling at Rebecca, who is again the photographer. But both Nkechi and the villager have been subject to forms of oppression that disallow them from seeing past a whole range of conventional stereotypes; these historical and structural barriers to acknowledging one another prove insurmountable to their forming a working relationship, much less a friendship.
The photos Amelia selects to figure her relationship with the villager are even more interactive: the two are seated close to one another, both smiling broadly. Amelia's text — which is illustrated with colorful images of the natural world, of people and food — also witnesses to the pleasures of time "slowing down," of "calm, comfortable" days when the only expectations are "being present and getting to know one another."13
But perhaps the most profound image of such knowing is the doubled portrait of Amelia and herself that the villager creates.14 It pictures two figures, one in a dress, one in pants, who seem together to be carrying a bag; pants, dress and bag are all colored the same shade of blue. Behind the shorter figure is the ghost of an earlier sketch; the artist seems to have changed her mind about how tall she wants that figure to be ….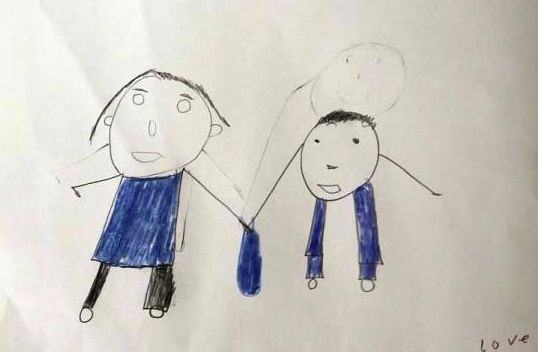 I now imagine that ghostly figure as Nkechi, who — due to a whole panoply of larger dynamics — is excluded from, and yet continues to haunt, this pair. Her relationship with the villager is built — not entirely deterministically, but not incidentally, either — of a range of larger structures. In the village, which is intentionally shielded from the outside world, Nkechi and the villager are unable to come to know one another as I and my co-teachers hoped they might do. The villager is direct about her disinclination to work with Nkechi. And although there may be some complicated answers to the question of what it means for an adult with intellectual disabilities to make these statements, Nkechi hears them, quite simply, as a conduit for prejudicial feeling and racist discourse.  As a result, the villager sees Nkechi heading out, refusing to submit to what would have been a highly unpredictable and likely exhausting relation.
Of course — even as I bring into view her photograph, her portrait, and one of the images she created — the villager herself also remains something of a ghostly figure in my account. Given the complexities of access in this process, what has happened to our collective project of "ethical portraiture"? How is it possible for me to provide an ethical account of what happened among us?
Might a more active politics of difference enable us to move beyond our desires for restoration–of impairment, of a relationship, of a community, of a campus, of an eco-system?
Eli Clare ends his own meditations on "disabled bodies and natural worlds" with a return to the tall-grass prairie, not "a retreat but the ground upon which we ask all these questions."15 I, too, have a range of related questions about the complex valuing of difference as a form of both cultural and ecological diversity, and about how we might make such difference palpable and available.
Do we need to return to the village, either with these students, or with another class, to keep on working through our partnership? Are different sorts of relationships possible among us?
Might a more active politics of difference enable us to move beyond our desires for restoration — of impairment, of a relationship, of a community, of a campus, of an eco-system?
Ryan Grim, Matt Sledge and Mariah Stewart, "From Daniel Pantaleo To Darren Wilson, Police Are Almost Never Indicted," Huffington Post, December 3, 2014 (5:15 p.m.), accessed July 17, 2015
"Campus Comes Together for Community Day of Learning," March 20th, 2015 (1:06 p.m.), accessed July 17, 2015.
Sara Ahmed, On Being Included, 13,151.
"Identity Matters: Being, Belonging, Becoming" (a cluster of courses at Bryn Mawr College, Fall 2014), accessed July 17, 2015.
"Riva Lehrer," accessed July 17, 2015

Tobin Siebers, "Returning the Social to the Social Model" (paper presented at the annual conference of the Society of Disability Studies, Minneapolis, Minnesota, June 13, 2014)

rebeccamec, "Fall Break Photos," December 2, 2014 (19:19 p.m.), accessed July 19, 2015
nkechi, "Self Portrait," December 18, 2014 (00:22 a.m.), accessed July 29, 2015,

Riva Lehrer, "Consent to Be Seen" (proposal for a panel on "The Ethics of Representation: How Context Matters," to be presented at the Society of Disability Studies, Atlanta, Georgia, June 12, 2015).

"Ecological Imaginings" (course offered at Bryn Mawr College, Spring 2014), accessed July 17, 2015
Eli Clare, "Meditations on Disabled Bodies, Natural Worlds, and a Politics of Cure," 21, accessed July 17, 2015

—–, "Meditations," 19.

abradycole, "Zine Page," December 18, 2014 (10:29 a.m.), accessed July 17, 2015
abradycole, "Drawing," December 14, 2014 (11:26 p.m.), accessed July 17, 2015

Eli Clare, "Meditations," 24.